What's the vibe like at a Kings of Distance event, like the big one we just put on in Houston at The Woodlands? The short answer: it's AWESOME – a hyper charged mix of energy, spontaneous moments, and a whole lot of entertainment from some of the world's best players.
Then you throw in the fact that we stream it LIVE for all of you watching at home, at work (don't tell your boss!), or wherever you're tuning in from. It makes for great viewing, and as you can imagine there's a whole lot more that goes into it than just hitting PLAY on a camera and letting the pros have at it.
That's why in the ZooCrew spirit of giving you all the details, we're doing an inside look at the event,  featuring our 5 favorite moments and our recap of the night, running diary style! Here's how it all went down in Houston!
Our Top 5 Moments (In No Particular Order)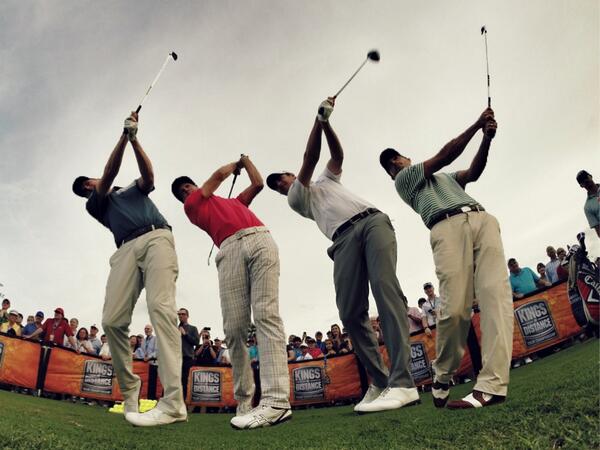 1. "Is everybody ready?" – 5:00 PM CT – You couldn't ask for a better way to open the night. We've got a few hundred people out on the range, enjoying a drink, mingling and talking golf.
Our man and MC @JasonFinleyCG gives the "is everybody ready?" call for our first event of the night, our long drive championships for the SR 1, SR 2 and SR 3 flights. The crowd responds with a collective WOOOOH, Rick Flair style. Where else would you rather be on a Tuesday evening? This is it!
A quick backstory: the Sunday before our event, we held seperate prelim events at 5 Golfsmiths across the Houston area, where customers came in to get fit into their SR Golf Ball flight (1, 2, or 3) and tried to qualify for the long drive finals.
The winning long drives for each flight:
SR 1 (swing speeds under 90 mph): 284.8 yards
SR 2 (swing speeds between 90 mph – 105 mph): 317 yards (they were lighting it up on the TrackMan radar!)
SR 3 (swing speeds over 105 mph): 392.3 yards (Almost 4 Bills! This flight featured a 347 yard drive, 364.1 yard drive and the winner…almost 393. Wow! Great showing, guys.) 
#FlyFarther
2. "You need to not move, the players are getting irritated" – Our Tour Pros in attendance – Nicolas Colsaerts, Jonathan Byrd, Stuart Appleby and Chris Kirk. This is more of a fun demonstration than anything, but great players aren't wired like that. When they see a target, they want to hit it!
We kick the main event off with our Closest to the Ethan contest (more on that later), and @EthanatorCG is rocking a space suit (that's him standing next to the flag)! They're all taking dead aim at him from 188 yards out and after a few balls get too close for his comfort, Ethan starts moving around to avoid any chance of getting hit. These guys are good!
3. "If I hit a nice, soft 6-iron it wouldn't really hurt that bad" – Chris Kirk delivers one of the best lines of the night as he announces what he's using for Closest to the Ethan. He then proceeds to hit back-to-back balls right at our man in the space suit. That pinpoint iron play could do Chris wonders at Augusta next week.
4. "I'll give you a 1-2-3 and we'll all hit at him." – After they've all hit their three iron shots, our staff pros go off script – they all fire off a shot at Ethan at the same time. The crowd loves it as 4 balls fly through the Texas evening toward our man. It's spur of the moment, it's amusing, and it's just a lot of fun to watch up close. @HarryArnettCG will later say, "I saw Ethan's life and my career flash before my eyes."
5. "brussel sprouts, stay behind the ball, and relax your grip." – The 4 pros close out the evening by sharing their best tips to hit it long. If you want to hit longer drives, you'll want to read these next few sentences:
Colsaerts – He thinks of how mad he got when his Mom tried to feed him Brussel Sprouts as a kid (we love this guy). You probably won't find that tip anywhere in Golf Digest, but "The Belgian Bomber" is averaging 306.4 yards per drive on Tour this year so…there must be something there.
Byrd – Keep the rhythm in your backswing the same as the rest of your swing, and accelerate through the ball. Good tip from a 5-time winner on Tour.
Kirk – Stay behind the ball. Load up on your right side (or left if you're left-handed) and from there you can rip it as hard as you want.
Those are some of our favorites. Now, onto the running diary.
Let's Get This Thing Started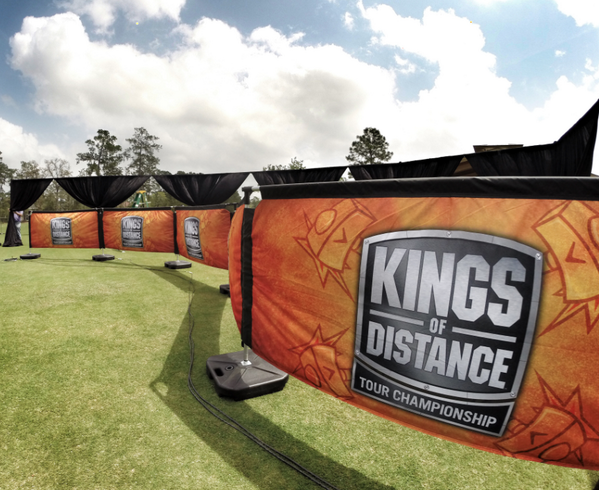 6:00 PM CT – Hey, @Coelsss is here! The Belgian Bomber is a natural at this kind of event, chatting up the fans, saying hey to us regular folk at #TeamCallaway. Glad he's here.
6:10 PM CT – Just a few minutes after Colsaerts arrives, Chris Kirk walks into our de facto production room (it's a nursery room at The Woodlands, seriously). We're getting closer to the main event.
You Are (About To Be) Looking Live!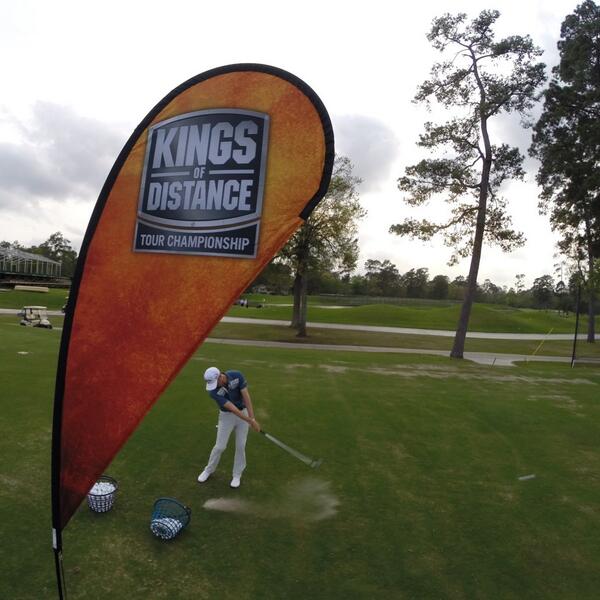 6:20 PM CT – "I can't tweet in this thing." –The always reliable @EthanatorCG dons catcher's gear, a mask AND HIS ASTRONOUT SUIT for the occasion. Houston, we have a target! (Was that corny? Of course it was! Any way, looking good, Ethan!)
6:25 PM CT – @JohnnyRodCG is working the control switchboard with @TonyRegalmutoCG, @HashtagChad is tweeting out pictures from the range and @AWS8 is making the final touch ups on our cameras. It's almost go time!
6:30 PM CT – @StuartAppleby is on the premises. He stops to sign every autograph request that comes his way before he says hello to Harry. Good dude, that Mr. Appleby.
6:34 PM CT – "The fact that they're warming up makes the chance of you getting hit that much higher." – @JohnnyRodCG's final words of support to Ethan. Be safe out there!
6:35 PM CT – Thanks to our rock solid technical team, this whole process goes pretty smoothly, but for a production like this there's always a little last minute anticipation. We want to make sure this is the best show possible for you guys, and everything looks good. Here we go.
Ladies and Gentlemen, Welcome To The Kings of Distance!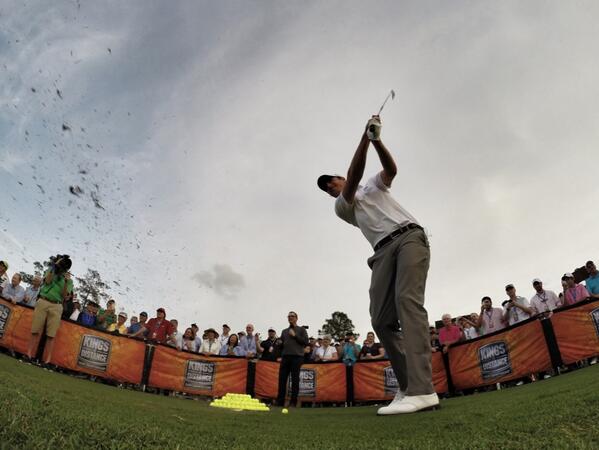 6:45 PM CT – It's showtime! Harry's mic'd, our players (Colsaerts, Kirk, Appleby and Byrd) are mic'd. The crowd is feeling it. Let's do this!
6:50 PM CT – After Harry takes us through the introductions and works the crowd for a few minutes, Colsaerts kicks things off the right way, by zipping a few Supersoft balls right in Ethan "One Small Step For Mankind" Ganot's direction. On his third and final ball, Colsaerts switches out to a driver and still makes a run at our 6-foot tall marketing manager/human target. Entertaining start!
6:52 PM CT – @JByrdpga is up next, and we're ready to see one of the best iron players on Tour in action. After a pinpoint first ball almost takes out our astronaut, Byrd busts out his "he better not move on this one" line that gets the crowd laughing. He's just kidding, sort of.
6:54 PM CT – @Chris_Kirk_ is up and as Harry mentions he's got one of the smoothest swings in golf (he's also won this season and is 6th in the FedExCup standings – which are both good things). The big Georgia grad then proceeds to work his 3-iron like, well, a guy who's won this season and is 6th in the FedExCup standings. He's hitting the low stinger like a champ.
6:56 PM CT – We give the floor (er, range) to Mr. Stuart Appleby. Once he's done, it's "breakfast ball" time as all 4 guys hit at Ethan, who may be close to passing out from heat exhaustion. But our astronaut is a gamer!
6:59 PM CT – It's onto the long drive demonstration, with Colsaert's brussel sprouts philosophy, Byrd's point on a smooth backswing, Kirk tells us to stay back on the ball, and Appleby says to relax the grip.
Then they all launch drives that crank the WOW factor all the way up to 11. Sometimes you watch these guys hit balls, and it's like they're not even playing the same game. It's incredible to see up close.
7:03 PM CT – And that's a wrap! What a great day and another great Kings of Distance Event. The live stream is over but Byrd, Colsaerts, Kirk and Appleby don't seem to be in any hurry. They stick around to shake hands, pose for pics and talk to some fans in the crowd.
The Final Word
We couldn't have asked for a better evening. Thanks to Golfsmith for helping us make this event possible, The Woodland for hosting, to the participants, the fans that came out, and of course to our Tour guys for being so accommodating.
We've got two of these events in the books now, with two more coming soon. Stay tuned!
To watch the replay of our Kings of Distance Houston event, click here.
And to watch the replay of our Kings of Distance event at the Annika Academy in Florida, click here.